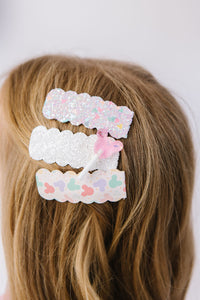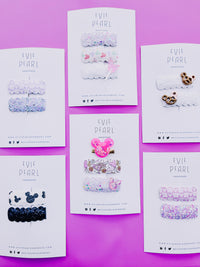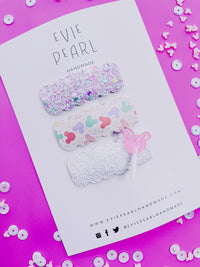 Evie Pearl Handmade
Trio Mouse Lollipop Sucker Snap Clip Set
This listing is for 3 snap clips:
•one silver multicolor mouse head snap clip
•one white glitter snap clip with mouse lollipop suck on it. The lollipop mouse sucker will vary in colors. The options could be: yellow, pink, purple, teal. 
•one pastel Mickey head faux leather snap clip

Contains small parts. Please do not leave unattended with a baby, toddler or small child.
Please follow us on Instagram: Evie Pearl Handmade. We post giveaways, coupon codes, sneak peeks and upcoming news!
Facebook Page:
Evie Pearl Handmade
Thanks for supporting our small shop.