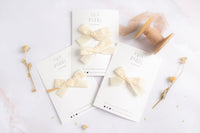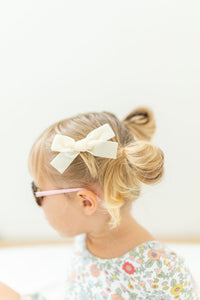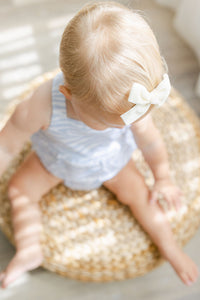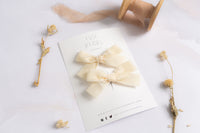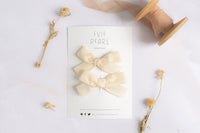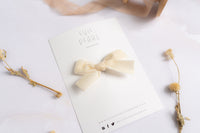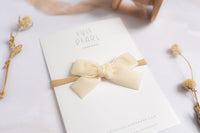 Evie Pearl Handmade
Classic Mini Velvet-Cream
Our Classic Mini Velvet Handmade Hair Accessory is all you need to complete your little girl's look of the day!
Dimension: 2 inches x 3 inches 
The Classic Mini Velvet from Evie Pearl Handmade is the perfect accessory for little girls—one that doubles their cuteness quotient and makes them look stylish at the same time! 
Use the drop-down menu to choose an option from the alligator clip, nylon headband, or pigtails. All come with beautiful cream velvet bows, hand-tied and hand-dyed with love. The headbands are available in three colors - latte, mocha, and espresso, so don't forget to mention your preference at checkout. 
Whether she's dressing up for a special occasion or simply looking to add a little bit of flair to her everyday look, the Classic Mini Velvet hair accessories are an excellent choice. An adorable addition to any outfit, they are suitable for newborn babies, toddlers, as well as young girls. Thanks to the versatile and stylish design, your munchkin will love to wear these accessories again and again.
So why wait? Give this pretty gift to your little one, and watch them cherish it for years to come! 
Product Note: 
Each item is handmade, so expect the pieces to be slightly different from each other. 

Supervision is recommended for kids while wearing these hair accessories.