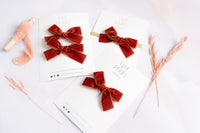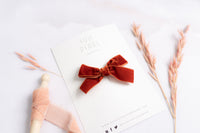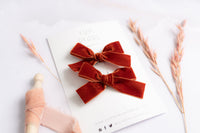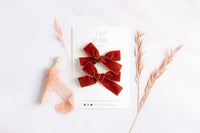 Evie Pearl Handmade
Classic Mini Velvet-Rust
Use the drop down menu to select single, nylon or pigtails. If you select alligator clip then I will automatically send right clips. If you would like left clips please leave a note at checkout. Pigtails will automatically come with one right and one left clip. These velvet bows are hand died and hand tied into the perfect bow. This size of bow is perfect for newborns, babies, toddlers, and youth aged girls. We love that this bow can grow with your girl. 
We offer 3 colors of nylon headbands: latte, mocha and espresso. Please put your preference at check out. If there is no preference we will send you latte. 
Dimensions: 2x3
Please note that each item is made unique and differently.
Supervision is required while wearing this item due to it containing small parts.
Please follow us on Instagram: @eviepearlhandmade. We post giveaways, coupon codes, sneak peeks and upcoming news!
Facebook Page:
Evie Pearl Handmade
Thanks for supporting our small shop.